I can't believe Thanksgiving is next week! Is it just me, or is the holiday season absolutely flying by this year? Well, before it turns from fall to winter, I have another awesome fall appropriate DIY for you from Smitten on Paper! These sweet twine wrapped table numbers would be great for a wedding any time of the year, but there is a rustic appeal about them that I think makes them especially perfect for fall.
Supplies:
Fresh Cut flowers
Twine/cording
Glue stick
Glue Gun
X-acto
Thick cardboard
Table number print out
Steps:
-Print out your desired table numbers, making sure they are the perfect desired size.
-Using a glue stick, lightly coat the back of the printed sheet and place over the cardboard. This is to ensure the sheet will not move when tracing and cutting over the cardboard. Then let dry.
-Using an X-acto, trace over the number, cutting through the cardboard.
-When your number is finally all cut out, peel back the sheet of paper.
-If your table number has any paper residue left over, not to worry, this will be covered up by twine and will not show through. So now, at the top, tie a knot. This will be your starting point when wrapping.
-Wrap, Wrap, Wrap!
-TADA. Your table number is now ready for beautification.
-Using a glue gun, carefully apply the flowers where you feel they are suited best. And done!
Smitten on Paper is currently offering 30% off all their holiday cards. I got mine from them this year and they are super cute, so don't miss out on this great deal!

As we are all planning our upcoming Thanksgiving celebrations, I thought this beautiful rustic fall styled shoot, sent over by my friend Annie of Marry You Me, would provide some awesome inspiration! I love how easily wedding inspiration can translate to any event or party. Those pendelton wool blankets used as table linens and caramel dipped pears are definitely going into my Thanksgiving idea file!
Here's more from Annie about this lovely shoot…
"Fall is a short but beautiful season in Central Oregon, and we wanted to celebrate the gorgeousness of fall and its colors and the best that Bend has to offer – sunny weather, local beers, the outdoors and of course, dogs. We chose historic Hollinshead Park for our shoot because of its orchards, old barns, and the fact that it has a great event barn perfect for weddings.
Working with a team of talented local vendors we wanted something that felt very Bend with a laid-back, natural yet beautiful and memorable feel. The beer bar of all local brews was a must – Bend has the nickname Beer Town USA because of our 14 (and counting) local breweries, and the beer growler filling phenomenon is booming here. Oregon is also known for its fruits and crops so incorporating fresh local fruits like pears, pomegranates and apples into the centerpieces and bouquet by Marry You Me and all of the desserts by Foxtail Bakeshop was important. Using non-floral centerpieces can be a great budget idea and the fruit can double as favors for the guests!
Pendelton wool plaid blankets (also made in Oregon!) adorned the dessert table and served as a table runner, as did Oregon brand fruit cans used for vases and Bend beer pint glasses. Locally made wood tables and benches from O'Brien Events were the perfect rustic touch for seating and have a great handmade feel to them. Fall leaves made for amazing natural decorations all over the ground at the park as well as in the bouquet for a nod to the season. The fall inspired invitations and calligraphed leaf place cards were designed by our model, Nikki Wilkinson of the The Wilkinson Loft. Fall in Central Oregon can be brisk, so a yellow sweater made the perfect and practical accent over the lace Mori Lee dress."
Vendors:
 
Photography: Byron Roe Photography
Event Design: Marry You Me
Cake + Desserts: Foxtail Bakeshop
Floral Design: Marry You Me
Rentals: O'Brien Events
Invitations: The Wilkinson Loft
Location: Hollinshead Barn
Wedding Dress: Mori Lee from Bella Brides
Hair + Makeup: Lori for Weddings by Edge Salon
Hair Accessory: Buttons n' Blossoms

We are back with another adorable DIY project from the creative and fantastic folks over at Smitten on Paper! This time it's a multi purpose escort card/glass for your wedding guests. Ch-ch-check it out!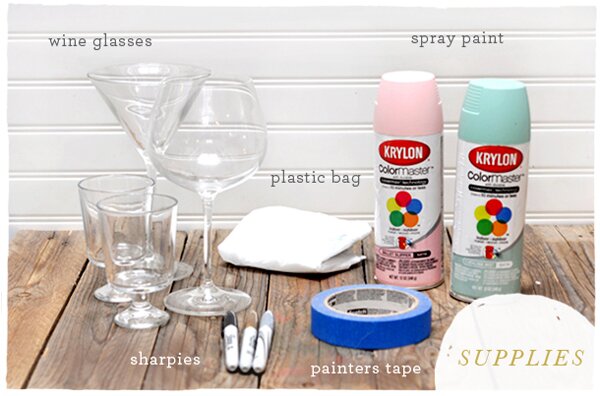 Directions:
1. With painters tape, begin taping sections that you wish the spray paint NOT to come in contact with the glass.
2. See sample; we thought painting the base would be nice.
3. Turn upside down and with a plastic bag, cover the whole mouth of the glass. This will protect the glass and keep it from getting paint on it.
4. Get creative! With tape, we made cute designs for our dessert cups.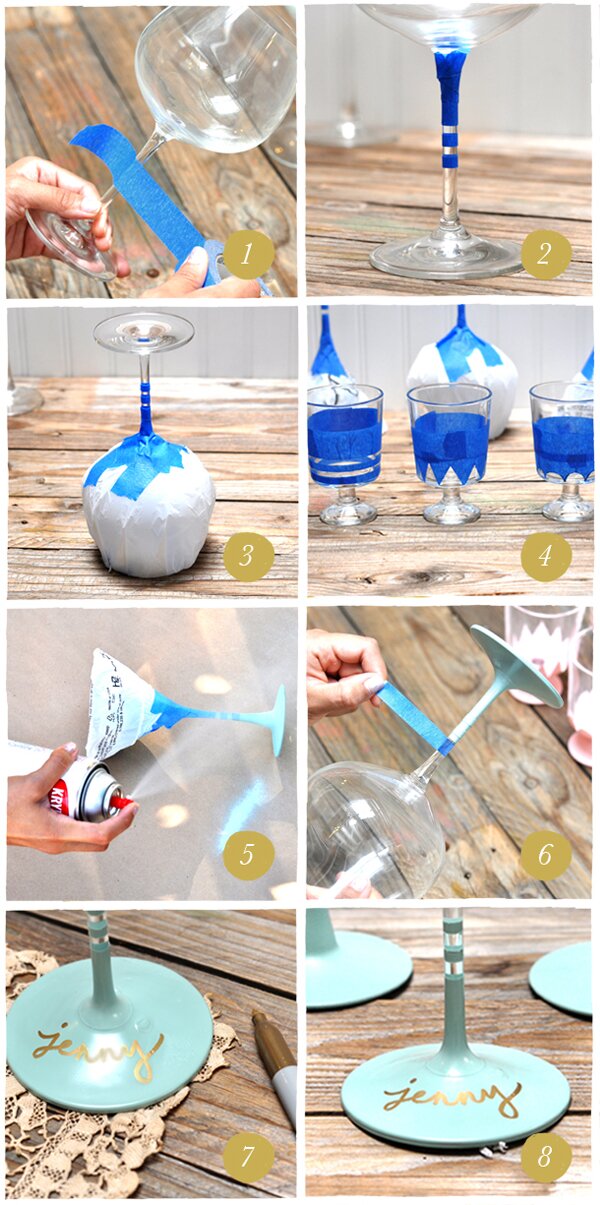 5. Once all your glasses are fully covered, evenly spray coats of paint, making sure to spray away from you. This is better if preferably done outside.
6. Let your paint dry and then carefully peel back tape.
7. With a Sharpie (We chose gold!), write the guest name at the base of the glass.
8. Ta Da! Let dry and all done.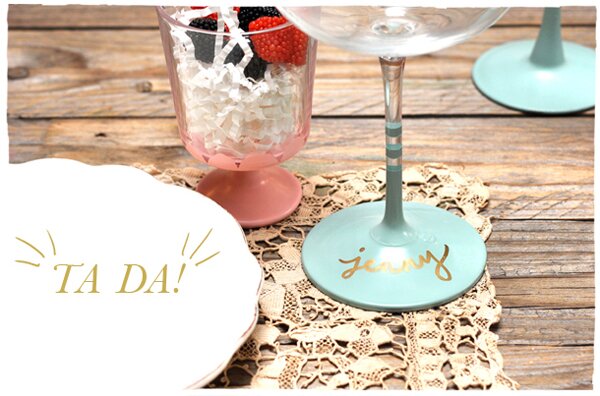 Super easy DIY, all you need is a little time and creativity! The spray painted glasses are so chic and versatile, they work both as a pretty escort card and/or decorative piece for any event or wedding. In this DIY we used them as escort cards and as adorable dessert glasses. Get creative with it! There are a billion uses. Enjoy!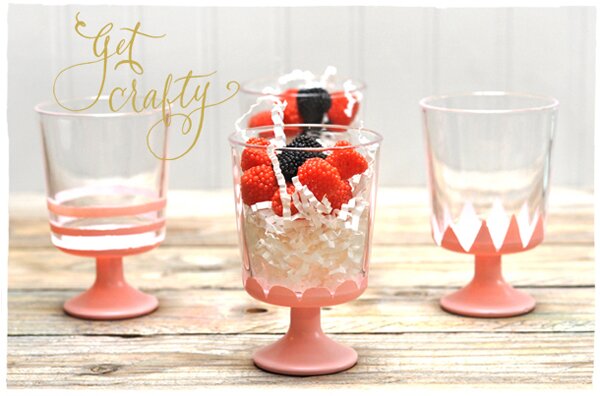 Make sure you head over to Smitten on Paper and check out what they have to offer. Also, don't miss out on the awesome 20% off promotion they currently have running for their adorable holiday cards!

Erica + Shaler's wedding was held at a nut farm just outside of San Diego, and simply put- it was perfect! I love how effortless and laid back the vibe was while still managing to be beautiful and stylish. From the stunning organically styled bouquets, to Erica's lush floral crown, to the wooden reception details, to the buttercream cake adorned with succulents, it was all just lovely! Big thanks to Mike from Studio 7 Photography for sending this gem over. 

Vendors:
 
Venue: Bates Nut Farm 
Photographer: Studio 7 Photography 
Flowers: Third Bloom
Catering/Food Truck: Urban Eats 
DJ: Dancing DJ Productions 
Cake: Cute Cakes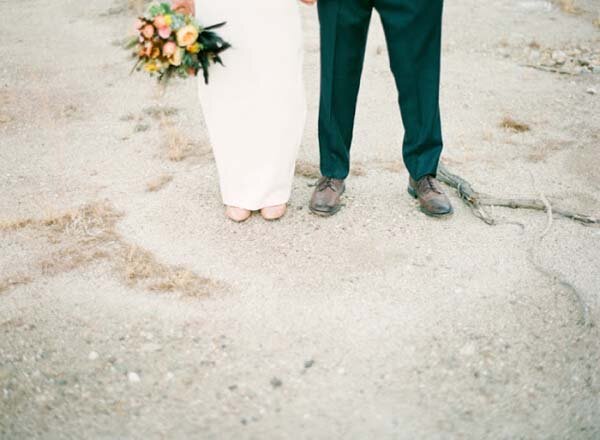 Abi Q Photography 
As you may have noticed, I've been on a bit of a blog hiatus the past several months. As well all know, life can get busy and sometimes that means stepping away for a little. With all that said, I am back! I'll be posting here and there, but just wanted to check in and let ya'll know I didn't disappear into oblivion.
In other news, one of my very best friends got engaged a couple weeks back and asked me to be her maid of honor! For the past several years my  life has been all about weddings, but I haven't had the chance to take part in one, so I am incredibly honored and excited! She and I will be on a planning frenzy until her wedding in July, so I'm sure I'll be making posts as the process goes along.
See you back here soon, friends! I've missed you:)