I am absolutely, positively in L-O-V-E with Andrew + Holly's stunning wedding, sent over by Laurette Quax from Shine Studios! I adore all different types of weddings, but the ones that always pull on my heartstrings the most are classic weddings with beautiful flowers and personal details. This one hit the nail on the head! And how amazing is the location? I need to get to New Zealand ASAP!
Here's a little more from the lovely bride, Holly:
"Andrew and I met in a nightclub in Auckland NZ, it was strange how it happened I was always that girl that swore that you never meet nice guys in bars. My friend and I were out for her 25th birthday – I wasn't drinking at the time as I worked for an airline and had a flight the following day, she on the other hand was very drunk and in a depressive mood as she thought 25 was old and she was over the hill -haha. A couple of guys started talking to us and she was so drunk that she started being inappropriately rude to them. I apologized on her behalf, the guy that was talking to me (Andrew) was undeterred by her and we continued our conversation. It got to a point where I felt I had better take her home, he asked for my number, my friend was struggling to navigate the stairs and he was such a gentleman taking her by the arm and helping her down even though she had been so rude that was definitely the clincher that made me realize that he was one of the rare 'nice guys'. Our friend now laughs about that night. We had our first date in the following weeks at a local tapa's bar, he picked me up from home, the conversation flowed easily – and still does even today 5 years later."
"Finding my dress was really special, its not often that my mother and I have the opportunity to go shopping together especially joined by my grandma and sister. I was anxious but also excited, I knew once I found my dress that I would have trouble keeping it a secret from my fiancé as we share everything. It was so fun going through the racks of gorgeous gowns and I loved getting lost amongst the taffeta and lace. My wedding dress was a sweetheart ivory lace fit and flare. I ordered custom made earrings and hair slide from America. The shoes were ivory satin with a jeweled bow on the front."
"We chose blush peonies and 'something special' roses. Peonies always seem to romantic to me and I loved the muted tones of them and the roses together. We also had our tables and the alter scattered with jars of varying heights with a mixture of wild flowers and roses."
"We got married at The Tasting Shed in Kumeu, Aucklands wine region. Its not a traditional wedding venue but we loved the relaxed rustic elements. That kept with the feel that we wanted for our big day keeping in with our personal style. We connected so well with the owners Jo and Raj, they made our whole day flow incredibly well and were really attentive to the small touches that we wanted. We had just arrived back from Dubai and wanted our wedding to be a collection of the people that meant the most to us that kept our guest list and wedding to be an intimate affair with 35 of our closest friends and family. The tight knit group coupled with the bad weather, really formed an casual but intimate atmosphere."
"Our cake was definitely on the untraditional side, it was a 3 tiered red velvet rosette cake in bright graduated colors. Our guests mentioned it was the best wedding cake they had ever had. The team at Bluebells Cakery in hillsborough were a pleasure to deal with."
"The most memorable part of the day for me was when we had a break in the weather the sun had just set, and the lanterns that we had put up were turned on. We went outside and had our first dance on the dewey grass under the stars to Joshua Radin – You got what I need. It was every bit the romantic first dance that I had imagined."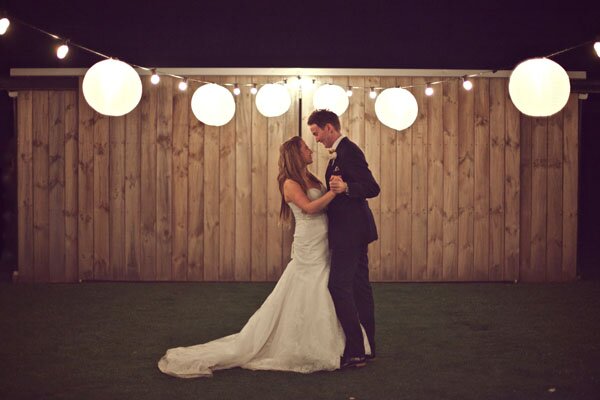 Some advice from Holly:
"Relax, dont let anything ruin your day, late guests, the weather or dress disasters (long lasting make up spilt on my dress right before I was due to get in the car) eye make up remover worked a treat. Its once in your life time – be present in every single second."
Vendors:
Photographer: Lauretta Quax from Shine Studios 
Venue: The Tasting Shed 
Flowers: Emily from Blossom Wedding Flowers
Cake: Bluebells Cakery 
Bride's Dress: Astra Bridal 
Groom's Attire: Custom made in Dubai, altered by Vinnie at Sabe 
Hair: Jo Plant at Exile Hair Design 
Makeup: Amber Carroll 
Rings: Groom's ring custom made at Carats Auckland  + Bride's rings custom made in Dubai.